Are you facing a hurdle to edit high-quality videos for YouTube, Instagram, and other social media platforms then here are the best top 5 video editing apps and the best part is all apps are with no watermark feature.
You can edit your videos professionally with these apps, and all are user-friendly apps where even beginners can edit.
1st Video Editing App is "Vlogit by Filmora":
Vlogit by filmora is the best among the video editing apps for YouTubers, and for the Vloggers, there are free with no trial watermark. You can create the videos effortlessly with music & effects. There is a particular feature to create a customized thumbnail for YouTube.
You can also export your videos of 1080p and directly share it on YouTube or any other social media platform.
Key Features of Vlogit by filmora :
Add text with different styles, font, and animation.
Add stickers, emojis, and GIFs.
You can add music with special effects, and you can also record the voiceover.
Apply transition effect to your videos to create visually appealing videos.
PIP to add videos or photos to the existing video.
Add Reverse or speed to your videos and apply filters.
Capture or create a thumbnail for YouTube.
Freely export your videos with full HD quality and no watermark.
PRISM Live studio :
In Prism Live Studio, you can edit videos, photos, and also create Live streams with multiple social media networks. In video editing, you can easily create outstanding videos by applying various effects and filters, and adding themes, adjusting the speed, and also experimenting with background music. After editing, you can download the video resolution of 1080p Full HD 1920×1080.
You can also make 16:9 ratio videos for YouTube, 1:1 videos for Instagram.
You can remove the watermark by selecting a conceal watermark in the setting.
Key Features of Prism Live Studio:
Trim, repeat and change the background color.
Select the aspect ratio of 9:16, 16:9, 1:1, 4:5, and 4:3 as per requirement.
Add transition and color filters.
You can speed, reverse the video.
You can add the music from the available library or the device.
Add movie filters, animated stickers, and we can draw.
Add text with different colors and fonts.
Freely download high-quality videos of 1080p resolution without watermark and share via social media platforms.
"Action Director" video editing app: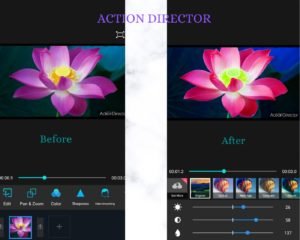 In Action Director, you can edit, crop, add music, and with special effects, you can even highlight your videos, and the slow-motion and speed edits help you to elevate the videos, however, You can also add repeat and rewind video effects to your video to make it visually extraordinary.
Export the high-quality ultra HD videos of 4k resolution and full HD videos of 1080p.
You can also use other features like HD video quality, with no watermark, and with no advertisement by paying 1450Rs per annum.
There is an alternative option to download high-quality videos and to remove the watermark by watching an ad, and you can unlock it for a limited time.
Key Features of Action Director:
Record video and edit it straight away after recording in Action Director.
Select video aspect ratio of 16:9, 9:16, or 1:1 based on the requirement.
In edit: crop, flip, spilt, and rotate 90 degrees.
In Action: speed, repeat, and reverse video.
Color Adjustment: select filters and apply the brightness, contrast, saturation, and hue adjustments.
Adjust the sharpness and smoothness.
Add a title with borders, and shadow.
Add exciting animated stickers.
You can add and mix your background music.
Upload, edit, and share ultra HD 4K resolution videos by social networks or by messaging apps.
Freely download a high-quality video of 4k resolution without watermark by watching an ad you can unlock it for a limited time.
"YouCut" Video editing app:
YouCut app is one of the professional video editing apps and also the movie maker for the social media platforms. You can edit your videos freely without any watermark. In video editing, you can easily create outstanding videos by applying various filters and effects, adjusting the speed, original video volume, and also experimenting with background color and music. After editing, you can export videos of full HD 1080p.
You can unlock premium features like premium transitions, gradient palette, premium filters, effects, and no ad evermore by one –time purchase of 1100Rs.
Key Features of YouCut:
Trim, cut, or split videos without losing quality.
Add exciting music to your videos with special effects.
Add Filter and create adjustments of lightness, contrast, warmth, tin and fade to intensify the video.
Special effects like Glitch, beat, magic, and mirror create a visually impactful video.
Add the text of different fonts, color, border, shadow.
Animated sticker and emojis.
Change in speed, crop, rotate, or flip to highlight the sequence of your videos.
You can freely download high-quality videos without watermark.
"InShot" Video editing app:
InShot is the best video editing and photo editing app with exceptional features like trim video, add text, music, emojis, blur background, filters, and Glitch effects. You can export high-quality HD videos and easily share them on social media platforms.
In addition, You can avail features like transitions, effects, stickers, no advertisements by the one-time purchase of 1950Rs, or there is also another option to download with no watermark by watching an ad you can unlock it for a limited time.
Key features of Inshot:
Merge the video and photo.
Trim, cut, and split.
Select canvas ratio of 1:1,4:5 for Instagram,16:9 for YouTube, and other ratios.
Add music, exceptional sound effects, and you can even record.
Best Animated stickers.
Add filters, effects, adjust color, vignette, highlight, and lightness.
Blur the background, and you can add colorful backgrounds.
Speed, Rotate and flip the video like a pro.
Freeze to capture in the video.
Freely download video of high-quality resolution without watermark by watching an ad.
These are the top 5 freely available video editing apps with a high-quality resolution of 4k and 1080p and with no watermark feature. In conclusion, All the apps may have undeniable merits and demerits, but based on your specification, you can choose the best app. Let us know in the comment section if there are any other apps with these features.
Also Read: Top 10 startups that are trending in India